Harmony Day a 'con job' to avoid talking about racism
Andrew Jakubowicz, a professor of sociology at the University of Technology Sydney, describes Harmony Day as a "con job" designed to avoid addressing questions about racism.
"It's all about making people feel that there's really no problem with people who are different from them, and if you share food from different countries and you dress up in different clothes and everyone sings and dances, then the whole problem of racism disappears," Professor Jakubowicz said.
"In terms of addressing the causes and processes through which racism is reinforced, it set that back dramatically.
"If you can't talk about what is actually going on, and address the dynamics that are actually occurring, then you are guaranteeing that they will continue to be problematic and cause deeper and deeper hurt and destructiveness in Australian society."
Professor Jakubowicz spent 15 years trying to get his hands on the secretive research, commissioned by the Howard government following the Coalition's 1996 election win, which formed the basis for the launch of Harmony Day.
He says then-opposition leader John Howard opposed the Keating government's plan to criminalise hate speech, and committed a Liberal government to establishing an "education campaign" instead.
The United Nations marks March 21 as the International Day for the Elimination of Racial Discrimination, but we celebrate it as Harmony Day, writes Erwin Renaldi.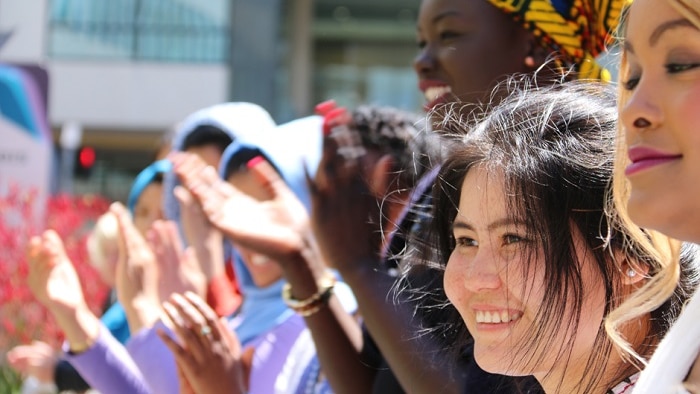 "Howard won the election and, soon after that, began the process of trying to work out what to do with his promise," Professor Jakubowicz said.
Against the backdrop of a growing One Nation and a push against political correctness, the Howard government commissioned surveys into race and racism.
"What they came up with was something that shouldn't have surprised them but worried the researchers, and it definitely spooked the government," he said.
Professor Jakubowicz says the study found "racism in general was quite widespread in the Australian community, particularly against Indigenous people, but also against immigrants", but there was "antipathy" towards addressing the problem.
"In the research, the researchers came across this notion that the only term that they could get a majority support for in qualitative and quantitative research was that people supported the idea of a harmonious society," he said.
"The harmonious society depended on other people not behaving in ways that made me, you, I, discomforted.
"That's where Harmony Day came from."
KEY DOCUMENTS
https://andrewjakubowicz.com/publications/antiracism1998/ and https://andrewjakubowicz.com/publications/living-in-harmony-1998-2001-campaign-and-evaluation